Give the Gift of Clyde Cruises This Christmas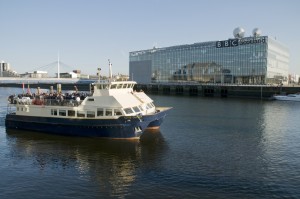 It's that time of year again when we all set out to find that perfect gift for a special loved one. Whether it's parents, grandparents, a spouse, children, or special friends, finding that show-stopping gift can make the festive season extra special. This year, we invite you to consider giving the gift of Clyde Cruises.
Clyde Cruises is the premier local cruise company based out of Glasgow. We are a family run operation offering river cruises and boat trips throughout the region. For your gift-giving convenience, we offer gift vouchers that can be applied to almost all our cruises. You just log onto the website and make your purchase in a safe and secure environment.
Are you looking for a specific cruise you want to give as a gift? Clyde Cruises has something for everyone. Send your loved one on the Prosecco Afternoon Tea cruise on the River Clyde. They'll love it. Or maybe the Caledonian Canal cruise or Aberdeen Dolphin Adventure would be more to their liking. Clyde Cruises offers gift vouchers for all of them.
If you're not sure what your loved one would appreciate, that's no problem either. You can purchase gift vouchers of various monetary denominations and let the recipients use them in whatever way they see fit. Buying a certain denomination takes the guesswork out of giving a cruise.
Cruising Is the Perfect Holiday Gift
Clyde Cruises is thrilled to be able to offer gift vouchers for the holidays. Let's face it, we all have a lot of stuff in our homes. Many of us have too much stuff. Wouldn't it be better to receive the gift of an experience rather than something else you have to find a place for at home? That's the big draw of river cruising. It is an experience of a lifetime.
There's nothing quite like sailing up the River Clyde and seeing Glasgow from an entirely different point of view. Imagine cruising through Scotland's famous lochs and seeing the mighty castles built by our ancestors hundreds of years ago. The experiences offered by Clyde Cruises are simply unparalleled.
Clyde Cruises gift vouchers are the perfect gift for both individuals and groups. If you'd like to learn more about cruising before purchasing a gift voucher, feel free to visit check out our website. You'll find all the information you need to make a decision. For the record, gift vouchers are very affordable in addition to being much appreciated.
About Clyde Cruises
Clyde Cruises was established in 1913 as part of the Clyde Marine. We run boat tours out of Glasgow and Aberdeen daily during the season. We offer public tours, private charters, and special events at various times of the year. Cruising with Clyde Cruises is your opportunity to see the River Clyde, Aberdeen Harbour, and the Caledonian Canal from a completely different perspective. And as long as you're going, why not give the gift of cruising to a loved one?