Young Apprentice Bags Dream Job on the Clyde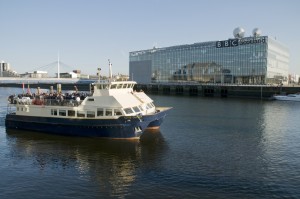 Flowing through the city of Glasgow, the River Clyde has historically been an incredibly important river insofar as shipbuilding and trade are concerned. It is the perfect place from which to get a proper look at the city of Glasgow. For this reason, many people choose to hop on one of our many Clyde cruises to get that perfect view. We have an incredible day cruise available for those who would love to watch the city go by in style while sipping on a glass of Prosecco or Champagne.
Perfect View with the Perfect Job
One young woman originally from Argyll called Laura Black has moved to Clydebank to pursue her dream of becoming a shipbuilder. It had always been Laura's dream to follow in her shipbuilding father and grandfather's footsteps. So as soon as she spotted a shipbuilding career opportunity on the Clyde, which involved installing complex pipework systems on ships just as the older generations before her had done, she jumped at the chance.
In her role, she has learned to fabricate, assemble and weld pipework to an 'exceptional standard', according to her bosses. And due to her incredible determination, she managed to complete her three-year apprenticeship ahead of time. On top of this, she also completed an HNC in her own time to help her gain more skills for her role. All of her hard work definitely paid off as she managed to bag the titles of 'Glasgow's Modern Apprentice of the Year' and 'Level Three Apprentice of the Year'.
Laura loves spending so much time on the Clyde; she works hard in a job that she loves, and every day she gets to see the beautiful views.
Stunning Scenery On a Clyde Cruise
If you are like Laura and would love to see the incredible view around the Clyde in Glasgow, Clyde Cruises can offer a variety of river cruises.
Our day cruises are ideal for the explorers and adventurers among us who would like to witness not only the wonders of the Clyde and its surrounds but also the beauty that Scotland has to offer. Our cruises are perfect for the whole family, and passengers get the opportunity to relax and enjoy the stunning scenery.
For information on any of our river cruises, contact us today, and we can assist with your enquiry.
Source:
http://www.dailyrecord.co.uk/news/scottish-news/meet-girl-following-family-tradition-8966187